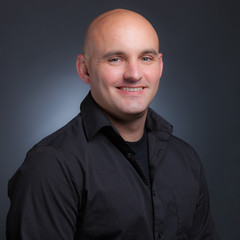 Kevin Autry
3D Environment & Prop Artist
Seagrove, United States of America
Summary
I graduated with honors, with a BFA in Game Art & Design, from The Art Institute, in March 2016 and have a prior BFA in Art Design. In 2012, after spending 3.5 years in the Active Army, I decided to return home and achieve my dream job at making videogames. I have a passion for games and enjoy every type of workflow that goes into the project.
My focus is mainly on 3D environments and the particular props within those environments. My workflow usually consists of using the multiple software applications listed below, along with correct topology and naming conventions. I also have some experience with C# and have been the programmer/level artist for multiple team based projects, to include 2D, 2D.5, and 3D game perspectives, within both Unreal and Unity.
Skills
3D Modeling
Environment Design
Environment Modeling
Prop Modeling
Texture Baking
Software proficiency
Experience
Contract Artist at Armada3D LLC

United States of America

April 2016 - January 2017

As a contract artist working from home, I model, unwrap, texture and import my lowpoly meshes into an un-named Unreal Engine project. Most of my modeling is done in Maya, with some organic help from ZBrush. Texturing mainly takes place within Substance Painter, but in some cases use Photoshop or Illustrator for additives. Asana, a project management software is used to deviate tasks, while Perforce is used to upload/check out work, through an online server.

Plans and Operations Officer at North Carolina National Guard

Stem, United States of America

August 2012 - December 2016

Responsible for scheduling, planning and conduct of Range Operations. Supervises scheduling, coordination and prioritization per 90-day training calendar. Conducting close coordination between Unit Commanders from other services and outside agencies utilizing the training area. Assists with planning and conducting state and regional level marksmanship events. Assists with updating personnel data and records.

Training Resource Officer at US Army

Fort Polk, United States of America

Project manager responsible for scheduling, resourcing, and execution of daily tasks. Coordinates with leadership procuring resources needed to conduct long range planning and training. Created and maintained detailed records tracker to ensure essential resources are acquired and maintained. Responsible for briefing executive leadership on resource allocation and potential shortfalls. Created a detailed inventory checklist to ensure compliance of resource management. Handpicked by senior management to ensure contracts were filled and performed on time in accordance with military requirements and specifications.

Scout Platoon Leader at US Army

Afghanistan

Supervised 20+ personnel, consisting of two sections, for the Battalion Commander's Personal Security Detachment and sniper teams. Provided technical expertise by leading personnel on 40+ operations and successfully aided the Task Force Commander in conducting progress assessments of operations. Documented, tracked, and maintained $5 million of sensitive equipment. Personally assisted with the security and clean up from Operation Extortion 17, the shotdown CH-47 Chinook helicopter on August 6, 2011, that was transporting 38 military personnel, to include special operations personnel.

Battalion Battle Captain (Officer in Charge of Operations Center) at US Army

Afghanistan

February 2011 - June 2011

Liaison for 900+ deployed personnel responsible for planning and synchronizing operations. Personally reported pertinent battlespace information to the Battalion Commander and other senior officers. Developed and implemented tracking mechanisms for scheduled convoys. Interacted with multiple international partners to help coordinate operations and logistics on a daily basis. Ensure Quick Reaction Forces and recovery assets were coordinated and positioned for reaction on attacks.

Transportation Security Officer at Transportation Security Administration

Greensboro, United States of America

January 2008 - February 2009

Conducted physical security checks of concourses, hangers, aircraft and perimeter fencing. Operated screening equipment to identify dangerous objects in baggage, cargo, and on passengers, and prevented those objects from being transported. Performed searches to include hand-wand and pat-down searches. Maintained focus and awareness, while making effective decisions in both crisis and routine situations.

Assistant Storeroom Manager at Toys R Us

Greensboro, United States of America

October 2004 - April 2008

Primary duties consisted of shipping and receiving, stocking, inventories, and audits, while being in charge of two to three personnel. Customer service was a major job function for assisting customers on the sales floor, loading large items into vehicles, and being knowledgeable with merchandise. Fast paced work environment during fall and winter seasons.